Do you Require a Garden Room?
A quality garden room can be a quick and easy way to extend your living or working area. If you need extra space but want the least disruption to the home. A made-to-measure garden building might solve all your problems. We use the very best materials. Which means our highly insulated buildings are solid, but very quick and easy to erect. They also boast minimal running costs and little, if no maintenance.  So why us?
What's Included?
At The Green Room, we stand out from the crowd. Why? Because, we offer more choice than any other company.
Quality SIPs construction
Heavy duty screw pile foundations
Exceeds building regulations
External up/down lights included
Outside socket as standard
Fire resistant external walls
Plastered internals
Bespoke designs
Turnkey
We cover a 60-mile radius
As Seen on TV - Alan Titchmarsh's Love Your Home and Garden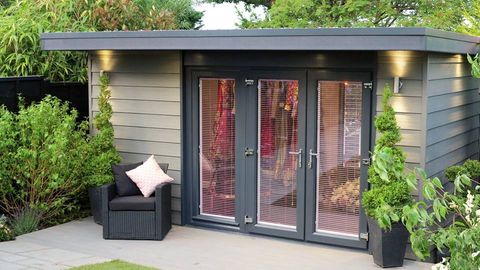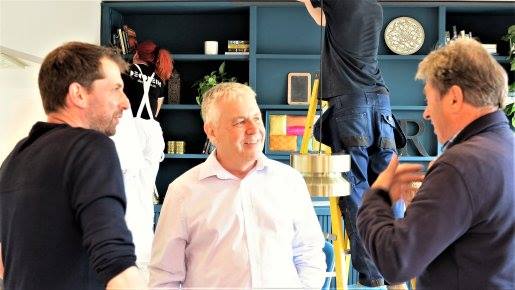 "I am delighted with the fabulous garden room which The Green Room supplied and erected for Alan Titchmarsh's Love Your Home & Garden programme. The building is so well constructed and the team were a joy to have on site with a high level of workmanship. I cannot recommend them highly enough!"

Thea Pitcher
But what makes our garden buildings so unique?
Products & Finishes
We offer a wide range of cladding choices, colours and finishes. From fibre cement through to the traditional look of Western Red Cedar. Our fibre cement cladding offers an alternative to traditional timber weatherboard for a low maintenance, fire resistant and rot free option. Meaning we can also install our buildings within a metre of your boundary. With an extensive range of maintenance free and fire-retardant external finishes there are choices for everyone. To view our range, please visit our Products and Finishes page.
Finishes & Colour Choices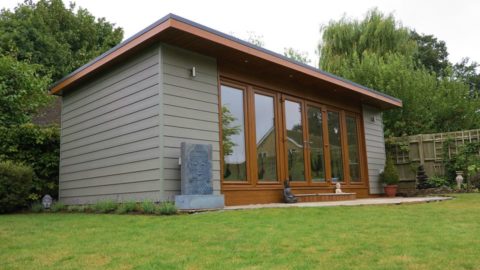 SIPs quality garden rooms are highly insulated
Firstly, our goal is to create you a warm, comfortable environment in which to work, rest or play. As standard on all garden buildings we use structurally insulated panels (SIPs). SIPS quality garden rooms have many benefits; they are more energy efficient and stronger. They are also quieter and more airtight than some dated methods. Less air escapes which in turn means less drafts, fewer noise penetrations and significantly lower energy bills. Thus, a drop in CO2 emissions.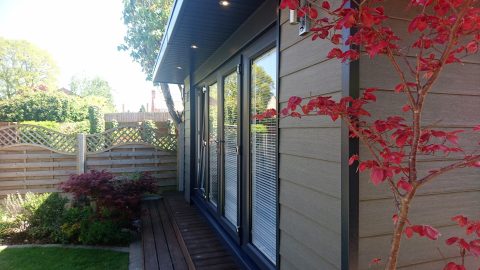 Windows & Doors
Secondly, throw into the mix energy-efficient uPVC window and door systems. That achieve low U-values and have high window energy ratings. They come in a range of colours. Designed to complement any cladding colour choice. All this combined with the use of modern energy efficient radiators. Equals a cost-effective studio throughout all seasons. As a result, our buildings provide high levels of comfort, are eco-friendlier and offer structural stability. Finally, they are also a good-looking investment for the future.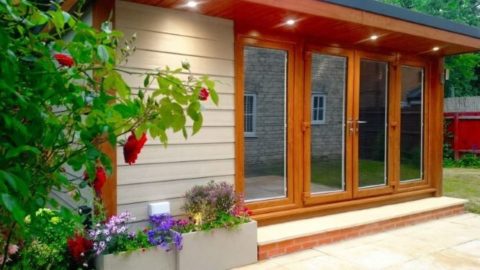 Interior design
We finish our internal walls and ceiling using moisture resistant plasterboard, which is plaster skimmed, this provides a smooth internal finish. You can paint, wallpaper or even tile the walls to your personal taste. Shelves or pictures can be hung as you would in your home. We don't use melamine plastic wall cover-strips or silicone sealant, which are unattractive to look at and can yellow in time.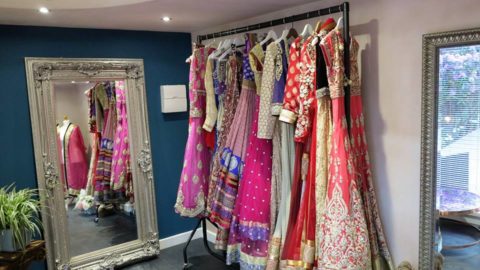 Light up your garden room
High quality LED down lights are installed. The number of lighting units vary depending on the size of the building. In addition, external up/down lights with a PIR sensor are also supplied and fitted. Notably, these are standard not extras.
100% satisfaction guaranteed
With little maintenance all our garden buildings will last you a lifetime. They all come with a 10-year insurance backed guarantee, a part-p certificate for the electrics and the structural calculations for the building.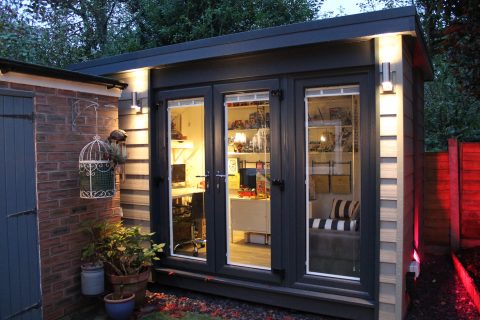 How much does a garden room or garden office cost?
For a fully installed quality garden room, including all the above specification, please visit our price guide page. The table at the bottom of the page shows the internal measurements. But, also gives you the external footprint. But If you don't see your size – don't worry – we can make any size building to suit your needs. We don't do standard; each building is unique and made to measure. Therefore, if your chosen size falls between two price bands, the cost of your building will too.
Bespoke Garden Rooms
Can you fit a toilet or a kitchen area in my garden room?
The easy answer is yes. Because we are a bespoke company there are lots of extra additions you can have. Do you need a toilet and shower, a kitchen area or extra storage? Not a problem, we can create this for you. Our buildings are strong and very sturdy too. So much so, that one of our studios houses a grand piano! As our garden rooms boast a high specification of build as standard. It means they are very cosy and warm so, can easily adapt to create a comfortable guest bedroom or granny annexe. View our gallery page for inspiration!
Bespoke Design Quote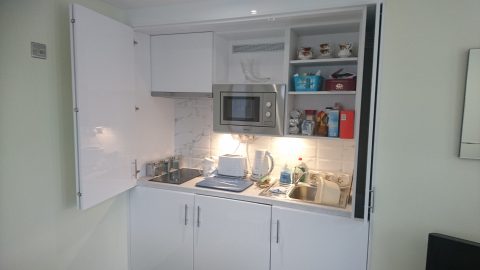 Free Design Service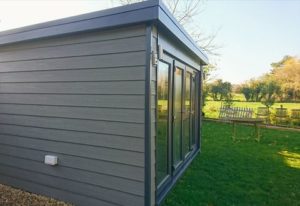 Our bespoke garden rooms are hand built to meet your needs. Designed and tailored to your individual requirements. Maybe you have a clear view of what you want or just need a little extra help and guidance. So, as a starting point, feel free to contact us for an informal chat. Or, fill in our no obligation quote page and we will be happy to send you further information. Let us help you find your perfect solution.
Granny Annexe Garden Homes
Unlike so many other companies, we offer an all-inclusive 'turnkey' solution to your project. This means no hidden extras whatsoever. What we quote is what you will pay. So, whether you need a garden office, a guest room or granny annexe we do everything. Visit our Products and Finishes page to see what's included in our buildings. Or, visit or granny annexe garden homes page for further information.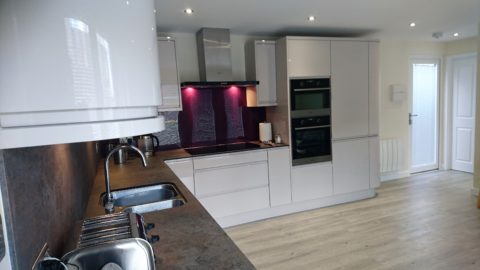 About Us
We are an established family business based in the beautiful county of Rutland in the UK. We cover all areas within a 60-mile radius. Brian has over 40 years' experience in all aspects of carpentry and joinery. During his career, he has achieved an ISO 9001 accreditation in design control and development. He has concentrated on building garden rooms since 2005 and has designed countless garden buildings. Hence, he has a great eye for detail and is a perfectionist. So, we can guarantee you won't be disappointed.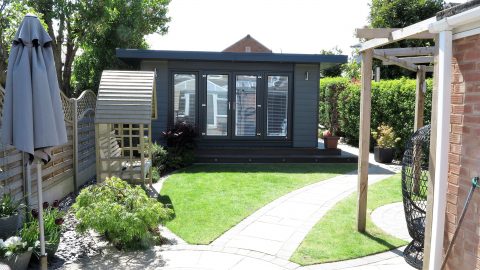 A sensible approach to "Work From Home" from a great company! I am currently sitting in my Green Room office working from home and fully online. I cannot recommend the concept enough and more significantly this very professional company to make it happen for you. The experience from start to finish was a stress free one and I am very satisfied with a complete and outstanding product. Thanks to everyone at The Green Room for your professionalism with a smile

Marcus A - Northamptonshire
Rachel Burlington
15:44 25 Nov 23
We have been very impressed with the quality of the build and the quick construction process. The team organised the whole process from start to finish including planning, ground survey, screw pile foundations, plumbing and connecting to existing drains and mains supplies. The team of guys working on the project have been excellent, professional and very helpful. The end result is a low profile discreet Tardis! The inside is bright airy and super insulated with very low running costs. The overall cost of putting in the Annex has worked out far lower than buying a bungalow locally for my parents to live in and the result is a blank canvas that they have been able to have exactly the way they want. I would recommend the Green Room to anyone with outdoor space to utilise. It's a million miles away from any kind of "caravan" so don't let that term put you off. A big thank you from us 🙂 (Photos taken before indoor decoration!)
Mike and Debs Gibson
17:35 04 Aug 23
We cannot rate The Green Room highly enough. We were looking to build a two bed-roomed annex in our garden for my parents to live in. From an initial telephone inquiry with Caron, to a F2F meeting with Brian we knew we were in safe hands. They guided us seamlessly through the process with understanding and kindness. Step by step they were on hand to advise us.When the team arrived, we felt that they were a first-class team who did a first-class job from beginning to end. They were informative and explained every aspect of the build and this was carried out in a very professional manner. We felt that we were in safe hands with people who very quickly became part of our daily life.You have given us multi-generational living and security. X
Victoria Barnett
21:54 29 May 23
After completion of our granny annexe I cannot praise Brian and his team enough! I'm hard to please! but I was amazed from Start to finish. From the initial discussions, planning the design with various options, and pricing was a breeze everything was easy, nothing too much trouble. Every single important detail to us was equally important to Brian and the lads who built the annexe. Whatever we chose wasnt a problem, anything that could be accomodated was....from design planning, and further in the oricess making slight changes was all professionally accomidated. Choosing and buikding tge anbexe was no more difficult than choosing a new outfit online...but easier via face to face or telephone contact with Brian.The lads Ben John Paddy and Fred including Brian have become family, and initially despite some concerns from neighbours after seeing the quality of product and build those same neighbours now also want an annexe.All the workmen (forgive me for anyone i missed off above were) professional worked efficiently, super fast, precise, informative, nothing was too much trouble. Also despite us being the other end of the country Brian was well informed every step of the way, and knew exactly what was hpoening on site. The quality of workmanship quality of product and professional finish was outstanding. They built the annexe on site saving almost £10k compared to competitors for a higher quality product. Honestly I cannot praise this company employees and product more highly. You are in very safe professional hands. Nothing is too much trouble, any changes are not a problem and by the time the build is complete the guys including Brian become part of ur family! The planning process is robust even when enforcement officers come calling, this was dealt with within less than 12 hours proving the planning was legal appropriate and robust to challenges from ill informed neighbours.The product and finish was so professional the work.en were flagged down twice by locals wanting quotes so they too can expand their living space. I cannot praise this company, workmen and product highly enough, you are in very very safe hands. Thanks to Brian Ben and the team many thanks Vicky Terrie Steve Truffels and BooBoo 🙂
Hannah Knox
15:41 23 Jan 23
Brian, Lee & everyone we've come across at The Green Room have been great from the beginning planning stage to completion. They're always on hand for any questions & really know what they're doing! Plenty of choice of finish for the exterior & interior & accommodated any specific requests we had. They made great suggestions to the style & fittings to meet our needs. Ben, Fred & the team who built the annex were lovely guys, and kept the garden as tidy as they could whilst working (hard thing to do when we had lots of rain!). Extremely pleased with the annex which looks better than I imagined! It's so modern & energy efficient the rest of the family want to move in! All we have left to do is decorate & set a moving in date!
charlotte meighan
12:44 03 Sep 22
The whole experience was easy and we were informed at every stage.When the works commenced Ben, Dave, Fred and Patrick were awesome. So friendly and patient and did everything to help and answered all the questions. We were sad to see them go. The units are lovely, and finished to a very high standard. Thank you Green Room.
Vicki Stayt
11:05 01 Jul 22
What a fantastic company! My husband and I can't recommend them enough. Nothing is too much bother. They have built my parents a self-contained, 2 beds annex at the bottom of our garden in just a few weeks and the quality of the workmanship is outstanding. I would happily recommend Brian and his team to anyone thinking of building an annex, office etc. Thanks so much, it's been a pleasure dealing with you and your team. Vicki Stayt
Cilla Towers
13:29 06 Apr 22
I can't thank the Green Room enough for my amazing new home,it exceeds all my expectations. I am especially impressed with the craftsmanship and attention to detail ,I am so looking forward to moving in .I will recommend The Green Room to all family and friends
Chris Mcavoy
19:51 03 Apr 22
If we could give The Green Room as a company and all the people who work for it 10 stars we would. Brian and the office team have guided us all the way from discussing the idea of our having a 'lodge', through the design stages and then getting the relevant permissions.The on-site team, Ben, Dave, Fred and Shaun have been brilliant and have made the whole process as stress-free as possible. it has been a pleasure to meet them all and their craftmanship, attention to detail and helpfulness has been exceptional.We are just so pleased with the quality of our finished lodge. The specifications for materials used, the internal features eg kitchen, wardrobe, shower, and all of the appliances is set really high and the finishes inside and out are faultless.From our experience we are totally confident to recommend that the Green Room should be the first company to visit and discuss your needs with.In our view they set the benchmark against which anyone else can be judged and I would be amazed if they could be surpassed in quality and value for money.
Keith Bartley
20:27 25 Mar 22
Excellent design and great customer service throughout. Thank you
Dawn Wright
20:25 18 Mar 22
We have just had an annexe built by the Green Room. They were brilliant from start to finish. The design, quotation and planning stages were all dealt with very professionally. The build team were excellent throughout the construction stage. They arrived on time every day and caused as little disruption as possible during the building work. We were very impressed with how well they got on with the job and also what an excellent job they did. We are very pleased with our finished annexe building and would recommend the Green Room to anyone looking for this type of thing. Thank u so much to Brian, Ben, Fred, Dave and Shaun ...
Phil Letts
14:16 07 Feb 22
This give me immense pleasure to write this review for 'The Green Room.'We moved into a new property last year with the view of building an annex within our land, for our elderly mother.After weeks of looking at various companies who build these units, we came across 'The Green Room'.Looking at their reviews and images of what they had built was a testament enough for us to contact them to build what we required.From the moment you meet Brian, you are put at ease with his professional approach and his knowledge of the industry.He was with us for the best part of a day going through every aspect of what we wanted, nothing was too much trouble for him.'The Green Room' dealt with the design, the planning and of course the build.Brian uses the highest quality materials and appliances and goes that little touch further than what other's offer.When it came to the build, Brian's team of guy's that came to do the job, were a credit to the company. They were courteous, hardworking, considerate to our needs and always willing to explain the building process. This was extremely helpful to us all.We felt very honoured to have such a fantastic bunch of lads at our property and it was sad to see them all leave once they completed the build.We cannot thank Brian and his team enough for what they have built in 8 weeks, it is spectacular and surpassed every expectation we were looking for.They will have our recommendation any time.Our thanks go to Brian and 'The Green Room' team an outstanding outfit.Kind regards,Phil, Julia, Norah and family.
Michelle Jones
10:43 10 Jun 21
We had a garden room built to accommodate a bar that we wanted which would be an all weather social space. WOW!!!!! We now have the most fantastic bar thanks to the amazing Green Room team. Everything went exactly as planned, the work team were lovely guys and they all did everything they could to make this a great experience for us. Without exception everyone who has visited us do far have been amazed by the space, quality of the built and bar fit, and the fittings inside. THANK YOU so much to Brian and the great team. We absolutely love it!!!
Jill Taylor
10:33 08 Apr 21
We were very impressed with the Green Room Team. They worked with speed and efficiency and created as little disturbance as possible. They quickly accommodated any requests we made and nothing was too much trouble. Each person who came to work on the annex was friendly and helpful, and we quickly came to know and like them. The annex is superb throughout, and has surpassed our expectations. If you are considering a garden building or annex, be sure to contact Brian from the Green Room first. You will not be disappointed.
Terri Eynon
19:41 19 Jan 21
We needed extra space. We got an excellent addition to our home.The team were highly professional, flexible to our needs, approachable and efficient. The whole process was much quicker than a conventional house extension.The 'chalet' (as we call it) is not just beautiful, it is also energy efficient, retaining a layer of snow on the sedum roof for days after our neighbours' snow had melted, despite being a snug 20degrees warm inside.The hideaway kitchen is really neat - well equipped enough to cook a light meal then folding away out of sight - making the room flexible for a multitude of activities.
Chris Haggarty
12:33 13 Jan 21
The whole team at The Green Room were fantastic throughout the entire process. From the initial design ideas and discussions, through to choices around colour, flooring, lighting, windows/doors and heating options - nothing was too much trouble for them. Brian in particular was really focused on ensuring that we had all the options and information available so that we could make exactly the right decisions so that our new Garden Room would be just perfect!I had looked around at some other suppliers and had planned a certain budget and timeline for the project to be completed, however I was pleasantly surprised just how competitive The Green Room were while still delivering a product of such high quality and ahead of schedule !! The onsite construction team were great as well: reactive, friendly, tidy and super efficient. A great job all round !Chris Haggarty
Karen Magee
12:54 20 Jul 20
The team at the green room were all fantastic. From Brian,Tom and all the work men that assembled our beautiful annex. They were like a well oiled machine. As one set left another came. To say the weather was not on their side, they worked through and had it finished just before lock down so we were able to move in. We are over the moon with what they did. We are now in what we call our happy place. Thank all your work men Brian. You have a great team and we would highly recommend you to anyone.Thank youKaren Ray Magee
Keir Broughton
14:55 17 Jul 20
mel collins
15:14 15 Jun 20
from the first enquiry to completion, nothing has been to much trouble, from lee doing the planning, to the lovely guys coming to site everyday, very punctual and very respectful to the elderly lady that they were building this annex for.Nothing was to much trouble for this company. would definitely recommend, and have done so to several people interested in this type of building. we are over the moon with the results.thank you.the Collins' family.
Pauline Wrigglesworth
19:39 25 Feb 20
We have just the most amazing 1 bedroom annex built in our garden. The Team at Green Room are fantastic, nothing was too much trouble from changing the design a few times to putting up curtain poles in the finished annex, Brian has a wonderful team and every single one of the workers were polite & helpful.i would highly recommend The Green Room if anyone was thinking of an annex. We did several months research and decide on The Green Room and we are so pleased we did. The finished annex has far surpassed our expectations. A massive thanks to every single person who helped with build.
Ray Powley
11:08 10 Dec 19
My parents two bedroom annex has just been completed by The Green Room in the promised six weeks. From beginning to end The Green Room has delivered brilliant service and exceptional.build quality. A great company and we cannot recommend them more highly
Deanne Pickerill
18:48 29 Sep 19
When we decided we wanted to build an annexe in our garden for my Dad we researched our options carefully. The Green Room had such excellent reviews I wasn't sure they would be able to live up to our expectations but they have exceeded them. Brian has been wonderful to deal with from start to finish; never pushy, always patient with our many queries and quick to respond. His product is excellent, such high quality with no expense spared we couldn't be happier with the outcome. Tom and his team were superb, true craftsmen and always friendly and polite. I can't recommend the Green Room more highly and if you are lucky enough to have enough garden to build an annexe then this is the ideal solution to a problem many families now face with an elderly relative who needs indpendence and also family close by. Thank you so much to Brian and his super team for everything.In my Dad's words "I am delighted with the result. It is everything I wish for. The team were friendly, polite and hardworking and very supportive when the odd hiccup occurred. The finished product is beyond my expectations and I am so looking forward to spending my years in such a lovely home as this. Thank you Brian for a job well done." Steve Pascoe
Donna Foster
15:33 19 Jul 19
I would like to thank Brian from start to finish for the planning the design and great communication from start to finish has been truly amazing.The team what can i say from my mum and me you all have been a great team. Hardworking thoughtful kind dedicated hardworking and go above and beyond in your roles. True craftmanship from all of you.I would highly recommend the green room my mums annexe is stunning beyond beliefThank you to each and everyone of you for giving my mum an wonderful home
michael penfold
18:59 01 Jul 19
Kath Meredith
18:12 08 Jun 19
The green room built me a one bed granny annex ,they have done an amazing job,i have a beautiful new home to be proud of.From the start to finish nothing was to much trouble,thanks for all your hard work.
Gilles Champier
21:41 04 Apr 19
From start to finish it has been a truly great project, these guys know what they are doing! Brian and his team have been fabulous and the whole building including ground work only took four weeks to complete!! i would recommend this company 110%. A big THANK YOU to The Green Room.
Ewan campbell
13:19 15 Mar 19
The Green room installed a lovely state of the art annexe for my father in our garden finished at the end of January. It was designed around my fathers needs but also allowed him to have his own independence. Brian came and spent the day with us going through how the annexe would be built and the materials which would be used. My father was happy so Brian up with a design and after a few changes made by us we agreed for the annexe to be built.The green room dealt with everything from the planning permission to the full installation of the annexe including waste services and electrics which was fantastic for us.The team that built the annexe were a delight to deal with and my father has settled into his new home.I would recommend that anyone building such an annexe in their garden certainly considers the Green Room as what you see on the website is what you end up getting built in the garden.
Josh Priory Plumbing of Reigate
16:45 17 Jan 19
The Green Room have provided a really high standard of work... I am incredibly impressed with their design, craftsmanship and professionalism. The staff are helpful, knowledgeable and really polite. Great from beginning to end... I'm really glad we chose The Green Room and equally happy to recommend them! Thanks again guys, we are truly grateful!-Josh.
Right thru the process of ordering, planning and building it has been a pleasure to deal with Brian and his fantastic team.No problem too small or large was any bother to them, they just efficiency kept going. The team is a well oiled machine that only has one purpose in mind to please you as the customer.We would willingly deal with The Greenroom again and again. Do not use anyone else for your project.....this is by far the best you can get.Would give a hundred stars if possible.
Liz Curzon
18:22 05 Sep 18
From my first meeting with Brian until I moved into my granny annexe nearly 8 months later, the whole processs was seamless and stress free. My daughter and her family bought a lovely home with a fabulous garden, the intention was always to build an annexe for me and with the help of The Green Room we have created a perfect home for me in their garden.The planning and designing process was fun and with Brian's help we came up with a design that was just right for my needs an fitted perfectly into the garden. We had work to do clearing the plot before The Green Room guys came on site but once they arrived it took them 5 weeks to complete the build and then I moved into my beautiful new home.I am delighted with every aspect of it and hope to live here for many years enjoying the luxury of having my family close by. I would not hesitate to recommend The Green Room to anyone who was looking to create a room, home or office in their garden, the whole team were professional and nothing was too much trouble for them.Thank you to The Green Room fro giving me my independence and the joy of living with my family but in my own beautiful home.
Tim Bullen
13:14 06 Aug 18
The Green Room provided us with a fully managed, faultless service to create a wonderful two-bedroom granny annex in Reigate, Surrey. The service included obtaining planning consent which was seamless, annex design which was responsive to our needs and preferences as well as construction which was fast but always professional. The Green Room team that worked on site were all craftsmen who were clearly prepared to go the extra mile to get the job done – as long as we kept supplying the coffee and biscuits! In truth, they cannot be rated highly enough. The finished annex is just perfect for its occupant, 87-year-old Iris, who is grandma to our three grown sons and great grandma to our own four-year-old grandson. Iris feels totally secure in her new home and it has genuinely given her a new lease of life. Well done Green Room and thank you.
Lloyd Trinkoff
11:00 18 Jun 18
Brian and the Green Room Team are thoroughly professional and their workmanship is excellent. The completed Garden Room is beautiful and has more than satisfied all my expectations. I will recommend them to anyone interested in adding value and utility to their garden.
Elaine Quinn
21:46 27 Mar 18
We would definitely recommend The Green Room.My daughter has now been in her new, wheelchair accessible, annexe for two months and absolutely loves it. It would be hard to find enough superlatives to describe how perfect it is.From the day we discussed our requirements with Brian, through his creating the drawings, obtaining planning permission and providing a friendly, professional building team, we could not have been catered for better. We were given a fixed turnkey quote, and were consulted at every stage.Our annexe even included things we hadn't thought of, such as perfect fit blinds coordinating with our intended colour scheme, and internal pocket doors which not only save wall space but also allow easier wheelchair access.
James Dennis
17:13 14 Mar 18
Chris Sarjeant
19:40 13 Mar 18
The Workmanship ,Designer precision and versatility of all the people involved with The Green Room,totally took our breath away.The decorater commented that he had never seen such a perfectly constructed house.Brian and Caron made the whole thing go with seamless efficiency and the construction engineers were tidy, courteous and went out of their way to explain what stage they were at,True professionals.We wouldnt hesitate in recommending The Green Room to any one considering a project as depicted in their brochure.Brians drawings and his ability to liase with planning and the legalities involved, took all these pressures away from us completely and made the whole journey from concept to fruition a pleasant experience.We totally love our New house.Chris and Nades
David Critchley
13:53 02 Feb 18
We are simply blown away by our new garden room! During the process of planning and designing our room we had an optimistic vision of how it would turn out, although slightly skeptical of the company's grand promises (we were assuming the usual 'salesperson patter'). However, seeing is believing and the finished article is even better than we imagined.It was a tough job as the weather was awful, with snow wind and rain to contend with. The amazing team battled on regardless. We now have our 7x4 m garden room 30 m from the main house, with toilet, internet, TV point and endless possibilities!After the price was agreed, there were no additional charges, despite the job taking substantially longer than planned, due to weather and other unforeseen difficulties (e.g. 8 inch concrete to remove to lay sewer pipe, requirement for pumping station etc). The whole process from designing and planning application to handing over the key was managed perfectly, with us being kept fully informed.The Green Room did a great job assuring that all the regulations were met and all the correct documentation was provided to us at the end. They supply and install only the very best quality materials, even upgrading some materials (cladding and decking) over what we requested without extra cost. It is clear that they take immense pride in their work.We plan to use the space as an office and play room and it will enrich the lives of all the family.Thank you The Green Room. Ultimate professionals and very highly recommended.
Lynn Lackey
13:55 25 Jan 18
We have just had a 3x3 green room installed. We have to say that from the first enquiry to the completed project our experience with Brian and his happy team has been fantastic. They have been helpful and professional.The building itself is as expected and of a very high quality. It arrived on time and the erection team did a superb job.We would highly recommend the Green Room to any prospective client.
Debbie Ewart
19:04 23 Nov 17
We have just had a one bedroom annexe completed with a separate kitchen bathroom and living room in coventry. From start to finish Brian was absolutely brilliant and bent over backwards to design and install an annexe that was above and beyond expectations. The build team were very efficient and professional and Tom was just amazing a thoroughly lovely man. We are absolutely thrilled and cannot praise everyone enough. Thoroughly professional helpful and friendly. Thank you so much to everyone.
Evelyn Barras
07:31 22 Sep 17
We are very pleased with our garden room, quality and appearance are both excellent. Brian and the construction team Nick, Fred and Tom worked really hard and the room is perfect. Thank you all.
Aquatic Control Engineering
18:36 21 Sep 17
We are very pleased with our quality new garden office, later on next year it will become our company canteen.When we have the landscaping around it completed and also the outside seating areas on the South and East side we will send photo's to the Green Room. We are planning for it to become a green and relaxing central point for all our staff in the middle of our company grounds. If all goes well we are hoping to add a sedum roof to it next year as well.We would like to thank all of the Green Room team for an excellent service!
shirley vere
14:55 22 Jul 17
We have just had Brian and his team from The Green Room in Uppingham install a yoga studio in our garden.We are absolutely delighted with it , the team were amazing from start to finish .They were punctual, worked extremely hard and were very professional, they always left everything as tidy as they possibly could do. They were a really friendly group of guys too and went the extra mile to ensure we were happy with the results.We had some special yoga fittings to install but they did everything to make sure it was just as we wanted it.I wouldn't hesitate to recommend Brian and his team if your considering a Garden room .Many ThanksShirley & Graham
Sharon Docherty
17:56 28 May 17
Fantastic service and we have had loads of parties in our bespoke bar. #cocktails # bar
Tony Cornelia
15:27 28 May 17
We had an ageing wooden summerhouse that was drawing water in at floorboard level.This was at the end of extensive decking that didn't get much use.So we made contact with the Green Room to see what they could offer, our idea was to look for something more usable and as maintenance free as possible.Plans were drawn up, discussed and agreed. The old summerhouse was taken down and within a few days our new Garden Room was up.The quality of the final product is amazing and will add substantial value to our property.We would recommend the Green Room to anyone thinking of having an outside room.
Amanda Lee
12:19 08 Mar 17
The process from start to finish was very positive and efficient. Our initial visit with Brian was very informative and thorough, the process of having the garden studio built was quick and an example of great workmanship. The main selling point for us was the way in which the product was designed and put together with literally everything included, this took a lot of the hassle out of the process and meant we had a finished garden studio ready to use.We would recommend this company and their products.
Caroline frater
17:08 06 Feb 17
Absolutely fantastic companyThe whole team are very professionalAnd pay so much attention to detailVery honest with the prices unlike other companiesMy family and dad are over the moon with his annexeCouldn't ask for a better serviceThank you so much Brian and the teamCaroline/Dave and family x
We are so very pleased with our new officeBrian and his team made a seamless experience for usthe guys arrived as arranged we were in Berlin , arrived home 3 days later to find a very nearly complete office, they finished right on time leaving us with no mess, and an excellent finished product, thanks Paul
Paulette Edwards
11:05 16 Dec 16
Delighted with my Green Room studio. The team where professional and provided an excellent service. The standard of workmanship was of a high standard. Thank you.
Community Radio Hermitage FM & CWR 1476 AM
13:08 25 Nov 16
Absolutely superb from quotation to finish. High quality materials and designed to fit into my very difficult garden with various levels perfectly. I am so pleased with the service, build, workmanship and installation.
Tom McLachlan
18:52 18 Nov 16
Brian from the Green Room sat down with us and we explained our needs. He designed everything perfectly and whilst the work was being undertaken he stayed in regular contact with me by email, text and phone. The guys that did the work were extremely hard working and friendly and often worked in freezing conditions without it stopping them from working. The garden room i now have is perfect and it feels like a room in our house.
The room was exactly as discussed. The construction went without a hitch. Workmen were great. It looks stunning and I couldn't be happier with it.
David Rothwell
19:01 01 Oct 16
Ordered a building from The Green Room to use as a garden office.The design, build quality and finish are absolutely outstanding in every detail - I'm so glad I choose to use their service!The builders, electricians, and plasters where top notch worked hard, tidy and all a bunch of great guys you can have a laugh with.If your thinking of getting a garden room, I wouldn't look anywhere else!Dave, Knutsford.
I am absolutely thrilled to bits with my new granny pad. It was originally going to be for my daughter but when it started to take shape I decided I wanted it instead. The Green Room designed and built a lounge /kitchen on the side of an existing garage and the garage became a bedroom with en suite .What a transformation!! A very professional service was given and first class workmanship was provided.Nothing was too much trouble for Brian and his team !! A big THANKS guys from Cath Jackson Stockport
L Starsmore
10:31 17 Jun 16
A well deserved rating of five stars. Absolutely thrilled with the two bedroom annexe we have had built by The Green Room. The design is perfect, the standard of the fittings are excellent. We highly recommend this company and all the team.
Next Reviews
Garden Room Ideas
Please follow the links below.
This stunning bespoke garden office in Leicestershire was required as extra space for a media studio. The garden studio replaced an old wooden summerhouse. Therefore, the first job was to dismantle the summerhouse…….
Garden Cocktail Bar Case Study – Northamptonshire
You can entertain in style with your own garden room Cocktail Bar. If you love nothing more than entertaining family and friends, an outdoor garden room bar could be the answer.
A room in the garden is a great way to create an area for activities that you may not have space for in the home. For more information and videos please view our case study on the Blog page.
Alan Titchmarsh's Love Your Home and Garden – As Seen on TV
As seen on TV, read the blog on our great adventure to help an inspirational family. If you would like to copy the look, follow this link to ITV's Get The Look page.
Cedar Garden Office Case Study – Garden Office Leicestershire
When purchasing a Cedar Garden Office there are many different aspects to take into consideration.