Western Red Cedar Garden Office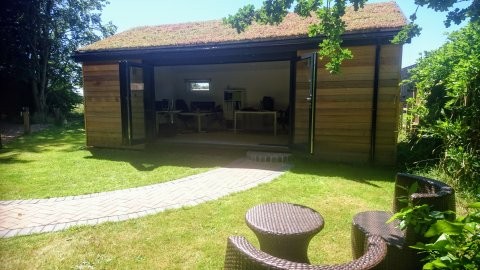 When purchasing a Cedar Garden Office there are many different aspects to take into consideration. But, an important factor for one of our customers, Aquatic Control Engineering, was the impact on the environment. They promote sustainability on their website and through the services they provide.

Sustainability is one of ACE's core values, ensuring that all our activities consider the impact on the environment, and inherently many of our products help to protect species and promote natural migration. Through detailed calculation and the use of modern materials, our manufacturing process ensure we limit excess material, recycle waste and use comparably carbon-friendly materials. We also have a range of products specifically for use for conserving wildlife.

Sedum Roof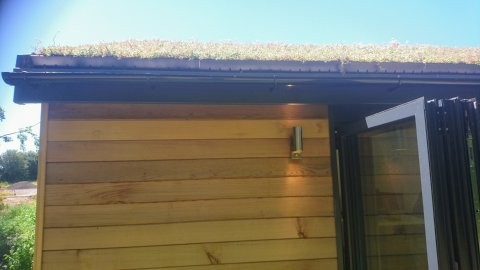 When designing the garden office all this had to be taken into consideration. Therefore, to help reduce the carbon footprint the garden office design included a sedums dual pitched roof. A sedums roof has an array of environmental benefits such as absorbing rain water, capturing pollutants and atmospheric deposits. It also provides a natural habitat for local wildlife. All these factors promote sustainability and environmental friendliness. Thus, helping to protect the earth for future generations.
Cedar Garden Office Construction
By using the very latest thermally efficient SIPs panel construction we comply with the current building regulations regardless of the size of your garden room or garden office. Structural Insulated Panels provide superior thermal performance, which will last the life span of the building. This is due to the solid core of polyurethane (PUR) insulation throughout the structure. This ensures that the building is heated evenly, remains free from cold spots and will benefit from reduced heating costs.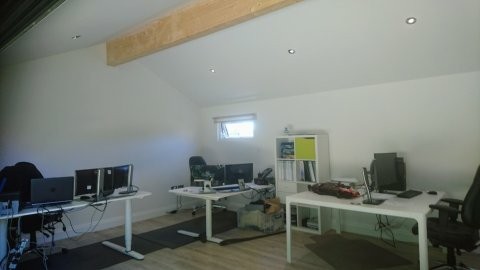 Western Red Cedar
Another consideration for the garden office was the cladding. So, the building was clad using Western Red Cedar, all the cedar cladding we supply is certified by the Programme for the Endorsement of Forest Certification (PEFC).It is an international, non-profit, non-governmental organization which promotes sustainable forest management through an independent third-party certification. Their credible standards seek to transform the way forests are managed globally and locally. This is to ensure that all of us can enjoy the environmental, social and economic benefits that forests offer. For more information, please follow this link Western Red Cedar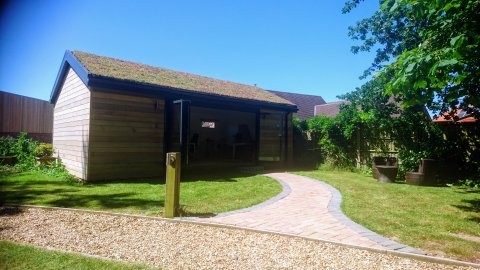 As well as an eco-friendly garden office they have a good-looking building that will last them a lifetime. For further information, please visit our Garden Room page.
We are very pleased with our quality new garden office, later on next year it will become our company canteen. When we have the landscaping around it completed and also the outside seating areas on the South and East side we will send photo's to the Green Room. We are planning for it to become a green and relaxing central point for all our staff in the middle of our company grounds. We would like to thank all of the Green Room team for an excellent service!

Aquatic Control Engineering
We offer more choice than any other garden room company. Why not visit our gallery for inspiration or to view all the available options download our brochure here. Alternatively, visit our Garden Room page or our Products and Finishes page to see the many garden room colour and material options we offer.
Return to Home Page.