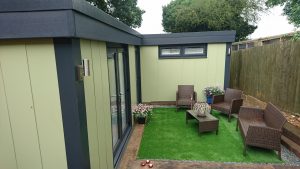 Two Bedroom Garden Annexe
As a rule of thumb a Garden Annexe is usually required as a home for an elderly relative. Granny or grandad!
The obvious benefits of this are reduced isolation for an elderly relative and being nearer to loved ones if health issues are a concern. Consequently, this has significant benefits in terms of being able to provide better care for your loved one/s and potentially reduce the need for a care home in the future.
In this garden annexe case study the opposite happened and instead of mum moving into her daughters back garden, the daughter moved into mums! Furthermore, an extra bedroom was required for the granddaughter who still lived at home.
Firstly, the two bedroom garden annexe was designed to the customer's specification. A few amendments were required for building regulations so the application could go through smoothly.
Local Authority: Kettering Borough Council – One of the stricter councils we've dealt with.
Planning permission required:
Sleeping in the annexe.
Permanent Dwelling
Full building regulations applied:
Within a metre of the boundary.
Mains and utilities connection.
Construction.
Part P Certification.
These were obtained by The Green Room on the customer's behalf. Planning takes approximately 6-8 weeks depending on your local authority.
We are a registered member of the LABC Partner Authority Scheme. LABC represents Local Authority Building Control in England and Wales. This means our buildings have been thoroughly vetted by our local authority and are compliant with all aspects of building regulations. See our FAQs page for more information.
Colour Choices
Lynn chose Colorcoat leather grain galvanised steel in Moorland Green with Anthracite Grey windows and fascias to compliment the cladding. The steel cladding was chosen because the building was within the 1 metre boundary building regulation criteria and had to be fire-proof. To view the many colour choices and finishes visit our Products & Finishes page.
The Big Build
The ground preparation and utilities trench work in this case study took two weeks to complete.  But this can be less depending on the size of your annexe and will be established on the Free Site Survey visit. Julian our customer and retired builder enjoyed helping and getting his hands dirty!
The foundations generally take a day and screwpile or concrete pad foundations are used depending on the situation.  So, this is discussed and decided beforehand.
The erection of the walls, roof and windows take 1-2 days, therefore the annexe is soon watertight.
Once the building is sealed, the internals can begin. The walls and doors are erected and utilities plumbed in.  Meanwhile, the electrics are connected and the kitchen installed.  In this case the kitchen chosen was a handmade hideaway kitchen. Beautifully demonstrated in our video by Julian.
The garden annexe is plastered and skimmed throughout. Once completed the flooring and skirting are added. Finally, the build, mains water and foul water connections are inspected by the local authority building control surveyor. In the mean time, electrics are also tested by our electrician and a Part P certificate is issued. All ready for you to decorate to your own taste.
Due to the weather conditions this stage took two weeks to complete.
Because, each garden annexe is designed to the customer's specification and personal colour choice, we have many plans on file. So, if you require some inspiration please don't hesitate to contact us. Alternatively, fill in our Get a Quote page and we will be happy to email you some examples. Also, you can visit our Granny Annexe page for more information.
The Finished Result
Two Bedroom Granny Annexe Review
For Lynn and Julian it was a perfect solution for their situation, see their review below.
"We cannot find words that express how pleased we are with our family annexe. Nothing has been too much trouble and the bespoke design is perfect for our needs. If you are thinking of having a garden annexe then put The Green Room to the top of your list. Excellent service, excellent build, excellent workers. Yes, we can genuinely give the highest praise to this company."
Lynn & Julian – Kettering
Northamptonshire – Read more customer reviews on our price guide page.
Click here to visit our Home Page.
Back to the Gallery.