Garden Room Leicestershire
This stunning garden room in Leicestershire was required as extra space for a media studio.
The garden room replaced an old wooden summerhouse. Therefore, the first job was to dismantle the summerhouse. The base and decking was to remain in place so, the team had to work around the existing decking to make sure the new building blended into the surroundings.  Which we feel they have achieved perfectly. This garden room  installation was unusual as  the building was to be positioned in the centre of the garden and not at the back. So, we installed an external light at the rear of the garden room to light up the far end of the garden and also external sockets to aid grass cutting. Please see image below.
At 2.5m high, our customer did not need any planning permission for this project, thus they were quickly able to benefit from the new space.
The finishing touches and finer details within the garden room have made all the difference here.  The flooring, skirting, integrated TV sockets and external lighting complement the overall feel of the garden room.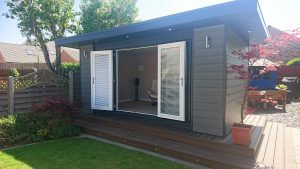 Specification
2.5m Reduced Height (no planning permission)
Perfect Fit Blinds
WIFI Range Extender For Internet Access
Hard Wiring For Speakers
Hard Wiring And Antenna For FM Radio
Outside Lighting (front and rear)
Flyover Roof
External Sockets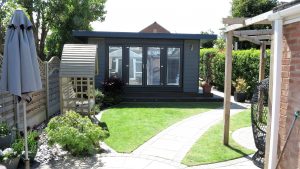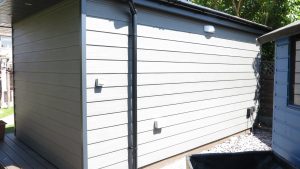 Each garden room is designed to the customer's specification and personal colour choice. Therefore, we have many plans on file, so if you require some inspiration please don't hesitate to contact us. Alternatively, fill in our Get a Quote page and we will be happy to email you some examples. Also, you can visit our Garden Room page for more information.
For more images and examples of our garden rooms please visit our:  Gallery or return to the Home page.