The Green Room

Installation Service
No Hidden Charges!
Why Are We Different?
Why are we different from other garden room companies? Firstly, we offer an all-inclusive 'turnkey' solution to your project with no hidden extras whatsoever. Therefore, whether you require a garden room or granny annexe we do everything. Secondly, our installation team are fully qualified professionals so they can deal with any eventuality that may arise, quickly and with knowledge and expertise. Last but not least, we offer the personal touch, we are a reliable, friendly company who pride ourselves on our quality and honesty. For further information on our products please click on the following links: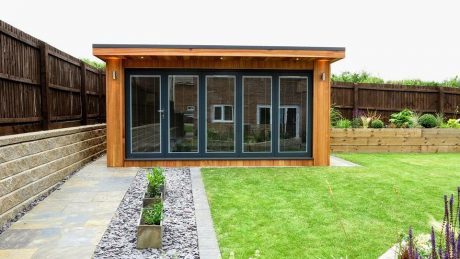 What is included in my Green Room price?
Free Site Survey
A site survey, if required, is offered free of charge. During the visit, we demonstrate the various materials and colour choices that are available. In addition, we measure, photograph and video the proposed garden room area. This is to establish access details, any obstacles and the mains electrical connection route to the consumer unit located in your home.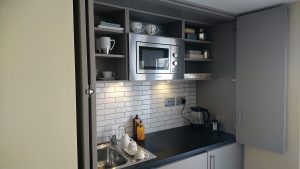 Furthermore, in the case of a kitchen or shower room we inspect your existing foul water system. We also plan the mains water route. This is to ensure the fall is correct and that the pipe gradient is enough. In some cases, we install a pump station if the pipe gradient is insufficient.
Installation Team
Qualified Installation Team
Our qualified installation team fully install the garden building and have vast experience. They have, over many years, installed hundreds of garden offices, garden studios, garden rooms and garden annexes throughout the UK. Therefore, ensuring a high quality, smooth running project and as a result offering you peace of mind.
Internal finish
The Green Room Garden Building
The walls and ceiling of are plaster skimmed giving a smooth flat surface. Because there are no visible joining strips this offers a more traditional 'home like' appearance.  Hence, giving you greater flexibility to decorate to your personal taste.
Heating
High quality Haverland Designer RC Wave RC7W slimline digital electric radiators are energy-efficient with the latest dry thermal technology, a high precision electronic thermostat and fully programmable heating control.
Flooring
The Impressive Ultra range is a collection of extra solid and hard-wearing laminate floors that look and feel exceptionally natural. The planks' authentic wood grains, for example, are perfectly reflected into the floor's joints as well. And there's more: thanks to a unique water-repellent 'HydroSeal' coating, Impressive Ultra is not only beautiful, it's also the most waterproof laminate flooring ever produced.
Delivery
The Green Room garden building is supplied in the materials and colour scheme of your choice. Most noteworthy, there is no additional charge for delivery.
Foundations
Screw Pile or Adjustable Foundation Pads
We use screw pile or adjustable foundation pads. The number of screw piles or pads installed will vary depending on the size of your garden building. Hence, both of these methods are a strong and permanent foundation.
Lighting
We install high quality LED down lights as standard. The number of lighting units will vary depending on the size of your garden building. They provide the required Lumen standard. We also install external up/down lights with a PIR sensor  to the front of  the building.
Electrics
We supply and install all electrical wiring and a lighting dimmer switch. We provide double sockets as standard too. The quantity of electrical sockets supplied depend on the size of your building.
Green Room to Mains Connection Subject to Survey
The Green Room Garden Building
We connect to your existing house consumer unit with armoured electrical cable. The cable will be surface cleat fixed to your boundary fence or wall and connected to the Green Room. Unfortunately, in some circumstances, there may be an unavoidable extra charge. For example, if your existing consumer unit is at the front of the house. If it proves difficult to access or you need a trench to bury the cable when there is no boundary wall or fence present.