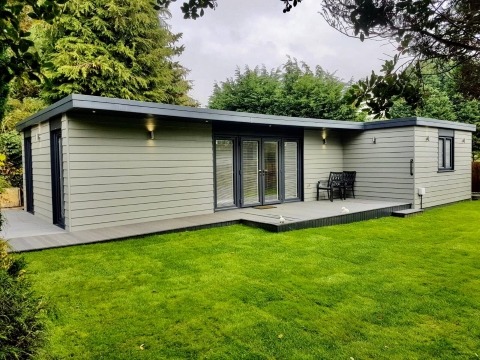 A large two-bedroom garden annex with generous kitchen space.

As you can see, Steve in Maidstone wanted a large two bedroom garden annex. Also, a large kitchen, and contemporary shower room. Furthermore a light and airy living area encompassed with glazing was essential. At The Green Room every project we undertake is entirely bespoke. So, based on our clients requirements our design team worked with Steve. To ensure we delivered a high quality building that exceeded his expectations of a garden annexe.
One thing people often forget to consider when contemplating having an annexe. Is to what level of independence would they want the project completed to? The difference this can make to a project is considerable.
Large Kitchen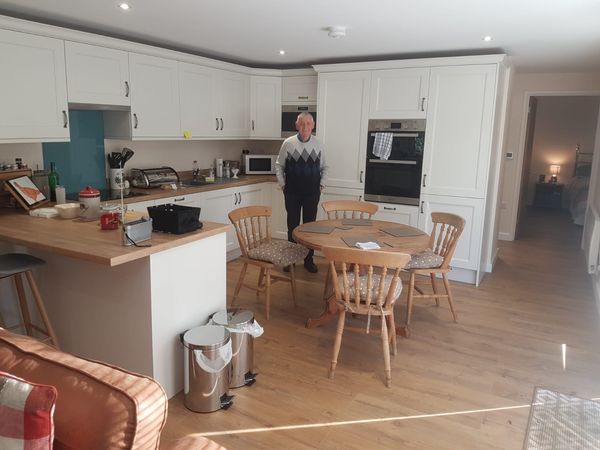 To achieve full independent living Steve wanted a fully functioning kitchen. With this in mind the kitchen or utility area, would need to include several extra white goods. Which are typically incompatible within a smaller or hidden kitchen.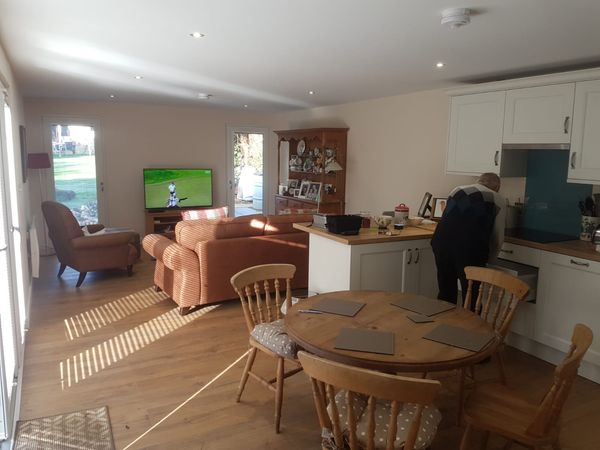 Contained within the Mornington Beaded Porcelain cabinets is a double oven in a tall unit. Also a combination washer dryer and dishwasher. A full height frost free fridge freezer and an integrated microwave. Combine all of those as well as a four-zone induction hob with extractor fan. A splash back as well as a single sink and water boiler too. It's clear that Steve has decided to aim for a two bedroom annex independent from the main property. His kitchen being ample enough to ensure a large meal could be prepared within.
Two Bedroom Garden Annex
With two large double bedrooms, the master having built in mirrored wardrobes. Steve has plenty of accommodation to entertain guests. Or have relatives stay with him.
Shower Room
Our policy of 'future proofing' includes standard features: low threshold and wide doors for ease of access, large walk-in shower with sunken tray, seat, grab rails, RNIB approved shower units and underfloor bathroom heating.
Quality SIPs Construction
The use of up-to-date materials, pile foundations, SIPs construction and pre-finished zero rated for fire wall coverings enabled a comfortable energy efficient home. Built to budget from start to handover within a period of four weeks with minimal disruption to the host dwelling and it's surroundings.
As you'll be able to see, at The Green Room we design our projects with our clients in mind. From a small garden room to a two bedroom annex. Our dedication to high quality construction and design is something we do not compromise on.
The price range of a similar annexe to this one would typically be £90,000 to £120,000.
Please visit our FAQs page for further information on local authority legislation. Alternatively, to read the government guidelines follow the link to the planning portal and go to page 41. Permitted development rights for householders Technical Guidance