One Bedroom Annex – Desborough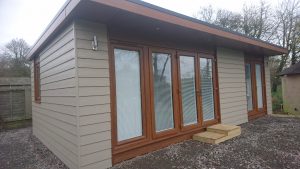 One bedroom annex in Northamptonshire. We know that annexes have the potential to solve a host of problems facing families today. A self-contained one-bedroom annex is an increasingly popular solution because older generations are more active and living longer, healthier lives. Multi-generation living is on the increase as more people are downsizing. Therefore, a garden annexe can provide independence, but a loved one can still be close enough to enjoy all the excitement of family life.
In this case study Lynne's mother, required a one-bedroom granny annex.
Finished in grey brown cladding and oak and designed to the customer's specification.
Local Authority: Kettering Borough Council – Planning permission went smoothly.
Planning permission required:
Sleeping in the granny annexe.
Permanent dwelling.
Full building regulations applied:
Mains and utilities connection.
Construction.
Part P Certification for mains electrical connection.
We obtain these on your behalf. Planning takes approximately 8-10 weeks depending on your local authority.
 See our FAQs page for more information.
Colour Choices
The customer chose grey brown fibre cement horizontal wall cladding and oak fascia, soffit boards windows and doors. Because the garden annexe was not within a metre of the boundary, there were no restrictions to the external materials. Please note: Zero rated, fire resistant, external wall cladding MUST be used if the building is within one metre of the boundary. For further information on planning permission and building regulations please visit our FAQs page. Alternatively, if you would like to view the many colour choices and finishes please visit our Products & Finishes page.
The Big Build
The ground preparation and utilities took one week to complete. Though this is dependent on the size of your garden and is established on the Free Site Survey visit.
Full structural calculations are prepared in advance and a copy is provided. These calculations will dictate the depth and positioning of the pile and concrete pad foundations, the foundations generally take a day and the erection of the building a further four days.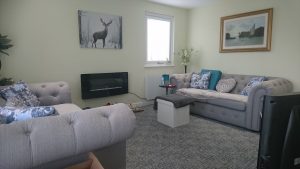 Once the building is erected, work can start on the internals. Firstly, the internal walls are installed and the internal door frames are fitted. Then it's the first fix electrics, plumbing and plastering. Secondly, the kitchen and shower room furniture and fittings are installed.The final step is to second fix plumbing and electrics, installing the flooring, skirting boards, architraves and hanging the internal doors.
In this case study, the kitchen chosen was a handmade hideaway kitchen in gloss white.
The kitchen includes: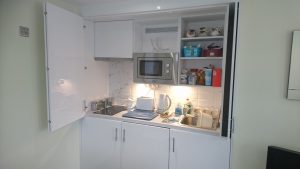 Two Ring Induction Hob.
Sink and Drainer.
Under Counter Fridge with Freezer Compartment
Combination Microwave & Grill.
Storage and Cutlery Drawer.
This stage took two weeks to complete.
The finished result.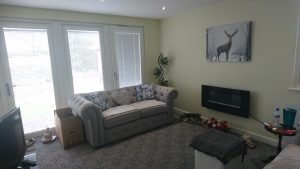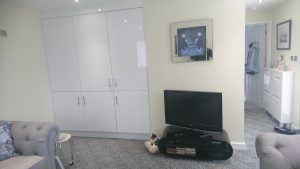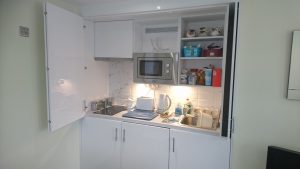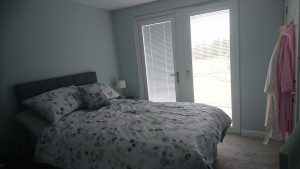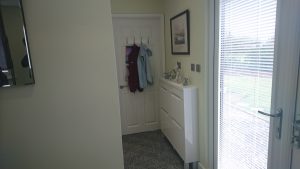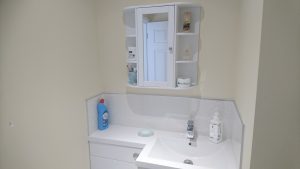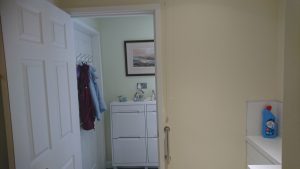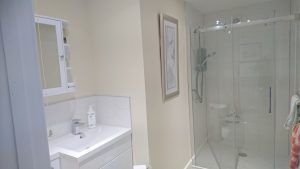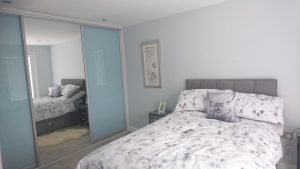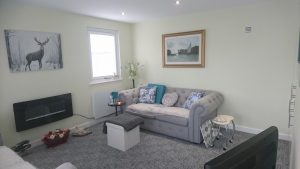 Your local authority building control surveyor will inspect the build, mains water and foul water connections. Next, our electrician tests the electrics and a Part P certificate is issued.
The granny annex is now ready for you to decorate to your own taste.
This annex is having a raised patio area fitted in the spring.
We design each garden annexe to your specification and personal colour choice. So, whether you require a one bedroom annex or two bedrooms, we have many plans on file. If you require some inspiration please visit the Gallery or Contact Us with any questions you may have.  Alternatively, fill in our Get a Quote page and we will be happy to email you some examples. Also, you can visit our Granny Annexe page for more information.
Read our reviews on the  Price Guide Page.
Click here to visit our Home Page.