One Bedroom Granny Annexe – Luton
If you are looking to downsize, a self-contained one bedroom granny annexe is an increasingly popular solution. We are finding more and more that parents are moving into annexes at the bottom of the garden. Therefore, allowing a family member to move into the main house. Independent, but close enough to enjoy all the excitement of family life.
In this case study Caroline's father, David, required a one bedroom granny annexe.
Designed to the customer specification, Caroline and David chose horizontal wall cladding in embossed olive and fascia and soffit boards in oak.
Local Authority: Luton Borough Council – Planning permission went smoothly.
Planning permission required:
Sleeping in the annexe.
Permanent Dwelling.
Full building regulations applied:
Mains and utilities connection.
Construction.
Part P Certification for mains electrical connection.
We obtain these on your behalf. Planning takes approximately 6-8 weeks depending on your local authority.
We are a registered member of the LABC Partner Authority Scheme. LABC represents Local Authority Building Control in England and Wales. This means our buildings have been thoroughly vetted by our local authority and are compliant with all aspects of building regulations. See our FAQs page for more information.
Colour Choices
Caroline chose embossed olive horizontal wall cladding and oak fascia and soffit boards.  Because the garden annexe was not within a metre of the boundary, there were no restrictions to the external materials. Please note: Zero rated, fire resistant, external wall cladding MUST be used if the building is within one metre of the boundary. For further information on planning permission an building regulations please visit our FAQs page. Alternatively, if you would like to view the many colour choices and finishes please visit our Products & Finishes page.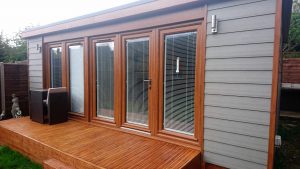 The Big Build
The ground preparation and utilities took one week to complete. This is dependent on the size of your garden and is established on the Free Site Survey visit.
We use screw-pile or concrete pad foundations depending on the situation. This is discussed and decided beforehand. The foundations generally take a day.
Once the building is erected, work can start on the internals. Firstly, the internal walls and doors are installed and the utilities plumbed in.  Secondly, the electrics are connected and the kitchen installed.  In this case study, the kitchen chosen was a handmade hideaway kitchen in the colour Coco Bola. The kitchen includes:
Two Ring Halogen Hob.
Sink and Drainer.
Under Counter Fridge with Freezer Compartment.
Combination Microwave/Grill/Oven.
Storage and Cutlery Drawer.
This stage took two weeks to complete.
The finished result.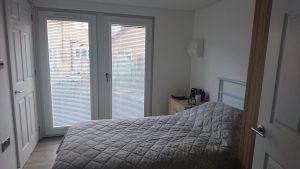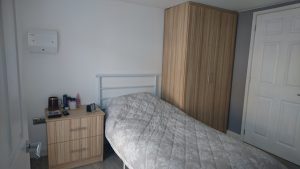 Your local authority building control surveyor will inspect the build, mains water and foul water connections. Next, our electrician tests the electrics and a Part P certificate is issued. The granny annexe is then ready for you to decorate to your own taste.
Finally, a 10-year insurance backed guarantee is issued.
We design each garden annexe to your specification and personal colour choice. Therefore, we have many plans on file, so if you require some inspiration please don't hesitate to contact us. Alternatively, fill in our Get a Quote page and we will be happy to email you some examples. Also, you can visit our Granny Annexe page for more information.
Review
Absolutely fantastic company The whole team are very professional And pay so much attention to detail Very honest with the prices unlike other companies My family and dad are over the moon with his annexe Couldn't ask for a better service Thank you so much Brian and the team.
Caroline/Dave and family x
Luton
Read more customer reviews on our price guide page.
Click here to visit our Home Page.